Parties
We take evening dances very seriously at the Little Big Weekend. So you can be sure of having serious fun. The bands are the best you'll find in Australia, and the program is designed to have you swinging out. Sydney dancers are known for turning up at parties on time and dancing hardcore. We invite you to join us, and bring your A-game.
Pick up a Party Pass in wave two of Registration, Monday 18th April - Sunday 1st May.
Friday 13 May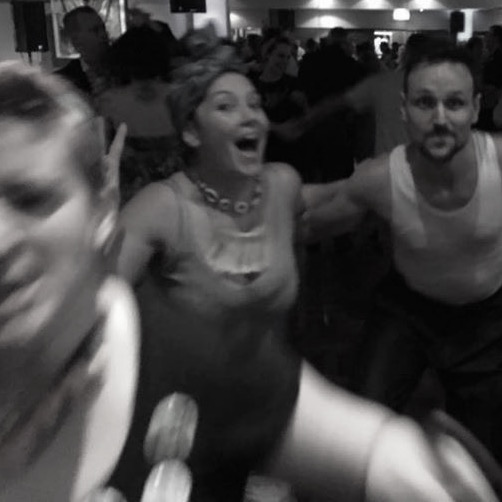 Harlem
Friday 13 May, 9.00pm-late, Andrew Dickeson's Blue Rhythm Band at Harlem, at Amera's Palace, level2, 314 Marrickville Rd, Marrickville (MAP), $30.
Harlem is held twice a month in Sydney, after increasing its popularity in 2015 encouraged an increase in its regularity. In other words, this is a good party, so we run it a lot. It's also been home to some of the best live band dance gigs in Sydney in the past few years. This is one party where you can guarantee very good swinging jazz, played by DJs and bands who know their busienss.
Harlem will be home to the Harlem Spoon, first Little Big Weekend lindy hop contest. One category, one winner, all lindy hop. With live music from the Blue Rhythm Band.
Andrew brings his original Blue Rhythm Band to the opening night of the Little Big Weekend. This is the group that delighted dancers at Jazz with Ramona in February, and the Little Big Weekend in 2015. Four solid musicians bringing you the best of swinging small group jazz. It's tight like that.
Dress to be comfortable, BYO, buses stop on Marrickville Road, Marrickville train station is near by, and there's off-street and on-street parking. There are plenty of good restaurants in the area, so you can make a night of it with dinner before dancing.
This party is included in the Party Pass, and the Everything Pass. Tickets will also be available at the door.