Parties
We take evening dances very seriously at the Little Big Weekend. So you can be sure of having serious fun. The bands are the best you'll find in Australia, and the program is designed to have you swinging out. Sydney dancers are known for turning up at parties on time and dancing hardcore. We invite you to join us, and bring your A-game.
Friday 5 May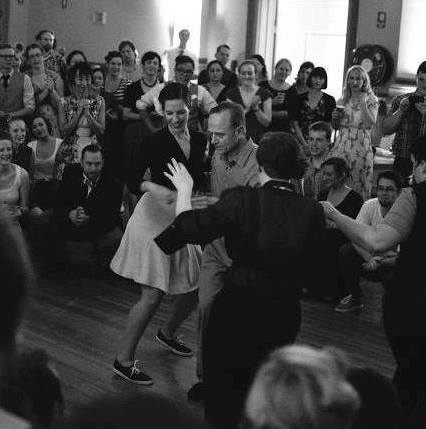 Sharon's Dance
Friday 5 May, doors open 8.00pm, Andrew Dickeson's Blue Rhythm Band, Amera's Palace, 314 Marrickville Rd, Marrickville (MAP), $30 (incl. with Everything & Party Passes).
Sharon's been running parties for dancers for about one hundred years (twenty), and she knows what she likes (jazz). You'll like what she likes, too: live music, social dancing, and good company on the first night of the Little Big Weekend 2017.
We will be introducing the band members, our guest teachers, and each other, so dress comfortably, and come ready to socialise. And dance. There will be some serious dancing.